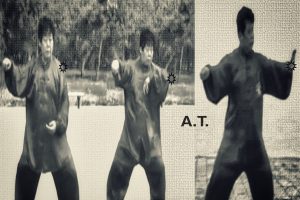 The CTC Breakdown: Beijing Gongfu Jia Tai Chi historical routines encompass the Xin Jia 83 System of Chen Fake/ Zhaokui and Cannonfist- the feudal biomechanics and martial strategy are well-preserved. This style of tai chi is regarded as the "battle tank" edition- often slow, boring to watch… yet unsurpassed with its high magnitude of impact forces. Gongfu Jia Tai Chi consists of more complex and obvious internal spiraling, fierce short-range power release, transitions, and dynamic body skills. Beijing Chen utilizes the ancient deductive approach of martial movement, from a single movement to different techniques (refer to pic above). The online training material is from CHEN YU, the direct son of Chen Zhaokui. Chen Zhaokui is the son of Chen Fake- all martial lineages of Chen Tai Chi are from Chen Fake in Beijing. For enthusiasts who seek the original Tai Chi Chuan framework pre-dating the two waves of sports modifications since 1928, Gongfu Jia of Chen Yu is recommended.
*The ARG Monthly Program(Associate Research Group): Currently, we offer instruction for Beijing Gongfu Jia Tai Chi Chuan, Yin Style Baguazhang, and Wutan Bajiquan- with intensive online tech support and guidance in a convenient monthly format.
Tier One: $150
Customized monthly lesson plan/ consultation
online training material and links
Up to Eight private training uploads (3 min per Upload) for review by Ancient Tai Chi within a six month period [expires 6 months after purchase]
Receive direct guidance, additional resources, and text summary (including timecodes) via email
Benefit from extensive email tech support for any questions on the training material
Achieve foundational requirements for a research group in your area
Discounted rate for a private workshop in Austin, TX
STEP ONE: PayPal (G&S option, $150) to kuan@baguakungfu.com [PLEASE LET US KNOW WHICH COURSE & PROVIDE YOUTUBE EMAIL ADDRESS: SEND DIRECT TO kuan@ancienttaichi.com [MUST HAVE A YOUTUBE ACCOUNT FOR -PRIVATE- MODULE VIEWING]
STEP TWO: Proceed to train with the customized monthly lesson plan [Please email: kuan@ancienttaichi.com for a free consultation on training guidelines]
STEP THREE: Utilize the ARG Distance Assessment and submit your private training video for the FIRST SECTION (unlisted Youtube upload/ Don't Be Shy, Your Training Archive Is CLASSIFIED). SEND UNLISTED YOUTUBE LINK DIRECT TO kuan@ancienttaichi.com
STEP FOUR: We will review your training and provide an email summary on pointers/ additional instructions, and feedback for the training material.